Speaker, Author, & Seminar Leader
Mabel Katz is an internationally acclaimed speaker, author, and seminar leader who is recognized as a leading authority on Ho'oponopono, an ancient Hawaiian art and practice for achieving greater clarity of purpose and living and working more effectively. She has crafted a series of keynotes, talks, and seminars for corporations, businesses, and individuals – including seminars for children – that apply the practices of Ho'oponopono to bring companies closer to their full potential and give people an edge at work and in all areas of life.
Based on using forgiveness and gratitude, her presentations focus on practical ways for reaching what she calls Zero Frequency®, a state where we are free of restrictive memories and limiting self-talk. From the clarity of Zero, outstanding solutions become apparent and excellent choices can be made.
Mabel is also rapidly gaining acclaim for her work in support of world peace. Honored with the prestigious 2012 Mil Milenious de Paz Peace Flag,acknowledging her world-peace initiative, Peace Within Is World Peace, she was officially recognized as one of the world's per-eminent Peace Ambassadors and on January 1, 2015 se was awarded the prestigious Public Peace Prize.
Amplifying her contribution to the LA Latino community Mabel created and produced a radio program, Despertar (Awakening), then a television talk show, The Mabel Katz Show. Motivated by her desire to bring awareness about better living choices for the Latino Community, her shows employed the best features of Oprah, Suze Orman, and Rachael Ray. As a result of her media work, speaking and seminars, she has become known in the Spanish-speaking community as "the Latino Oprah Winfrey." Mabel has received numerous prestigious local and national awards recognizing her achievements in business and with local communities.
Learn More About 
Mabel's #1 Bestselling Book
Zero Frequency®
Dear Mabel, The first time I saw the cover of your book, 'The Easiest Way', I felt a special attraction. Very soon after reading it, I found not one but few galleries interested in selling my own paintings in the capital city in one of the main streets. And the next time I was in the gallery, the owner told me that she wanted to have my paintings always hanging in the window of the store untill they were sold. I felt a strong energy that cannot be described with words...a magnificent feeling. Strange, but long before reading your book I felt somehow the need for deleting memories... You showed me the way. So I feel the need to thank you from my heart. You brought light , real purpose, and higher meaning to my life. I am 30 years old, just finished Faculty for Civil engineering. For me, painting is the easiest way of not thinking. The way of eternal inspiration. I feel guided. Of the many, many things I could have choose, Ho'oponopono illuminate sense, clarity and the eternal joy. Thank you so much, although some things cannot be described with words, I tried with this short story,
Hello Mabel and Team, I just want to say thank you, thank you, thank you for the abundance of support you are giving us. I didn't expect this additional, much needed support! My deep gratitude for all your hard work. Mabel, this is such a small amount to pay for the abundance of information you are giving us. I'd love to offer my help in return. If you need any volunteers to help you out somehow it will be my pleasure to do so. With much love and appreciation,
I am a hairdresser and I became a hairdresser because I grew up watching my family do the same. I am the third generation of this profession in my family. My grandfather, my grandmother, my mother and my aunt are also sculptors of hair. For us hair means creativity, crafting and self-realization. Braiding has always been one of my favorite activities and I got plenty of compliments at home for braiding technique. Then out of the blue, in my fifties, I got an idea that I would like to make the longest braid ever made and this sparked my thoughts. I started to see opportunities and numerous kind people volunteered to assist me in setting up this record. When I got stuck, I either got help from somebody or a new possibility revealed itself. There was no stopping me. I knew I would succeed. The time arrived to break the record and despite smaller difficulties, everything worked out as it had been planned. Everybody on the team was working diligently, I only had to braid. In three hours, the unbelievable happened! I created the world's longest braid, 23.6 m long, made of hair from 52 people, and I became a Hungarian record holder. By this time I had been practicing the Ho'oponopono for 3 years. I finished Mabel's '40 days and 40 nights' program 7 days before I broke the record. I felt that I could easily accept any kind of outcome. Thank you!
Hi there. Thank you, Mabel, for listening to me today. Today was a terrible day, nothing could lift my morale. Something inside me told me to consult Mabel. I assure you a miracle happened. It's only been 5 minutes since I contacted her, and a special sensation came from my head down to my toes, a sensation I've never felt before, Unexplainable. Since that moment, everything changed, an amazing energy came over me and I started to do many things at once. I felt immense happiness. After I spoke with her, I started to feel so much better. I'm starting to see things clearer and with a different perspective. I've been practicing Ho'oponopono for one year now and I can honestly tell you that things in my life have changed, though, I still have relapses. When I see that I give God permission things start to come to me in a way I would have never imagined. Thank you, Thank you, Thank you.
My mission is to open the mind and heart to awaken the Soul to the possibilities that life offers when we return to our natural state of Zero—the limitless state that appears when we live in the present moment, free of judgment and with 100% responsibility for our consciousness. I hope this enlightened state of being will reveal the wisdom that dwells within each of us and serve as our pathway to a loving, peaceful, and abundant life. May this mission become the earth's mission, and bring peace and love to a world that is so desperately seeking to heal.
Media & Partnership Opportunities
Book Mabel Katz to speak at your corporate or youth event.
Interview Mabel Katz on your TV, radio or podcast show.
Partner with Mabel Katz on a project.
You can also connect with Mabel and hundreds of thousands of like-minded community Zero Frequency® and Ho'oponopono members on social media: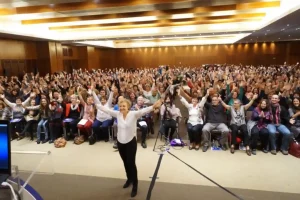 Simply put, Zero Frequency® is a philosophy for returning to your authentic power and creating a state of peace, limitless, and abundance. It's a state of Being where inspiration becomes your
source for all of life's big and small decisions. At Zero, you simply are! Content, complete, and happy.
Read More